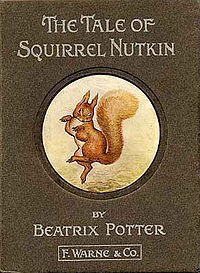 The Tale of Squirrel Nutkin is a children's book written and illustrated by Beatrix Potterand first published by Frederick Warne & Co. in August 1903. The story is about an impertinent red squirrel named Nutkin and his narrow escape from an owl called Old Brown. The book followed Potter's hugely successful The Tale of Peter Rabbit, and was an instant hit. The now familiar endpapers of the Peter Rabbit series were introduced in the book.
Squirrel Nutkin, his brother Twinkleberry, and their many cousins sail to Owl Island on little rafts they have constructed of twigs. They offer resident owl Old Brown a gift and ask his permission to do their nut-collecting on his island. Nutkin however dances about impertinently singing a silly riddle. Old Brown pays no attention to Nutkin, but permits the squirrels to go about their work. Every day for six days, the squirrels offer gifts to Old Brown, and every day as well, Nutkin taunts the owl with another sing-song riddle. Eventually, Nutkin annoys Old Brown once too often. The owl seizes Nutkin and tries to skin him alive. Nutkin escapes, but not without losing most of his tail. After this he becomes furious when he is asked riddles.
Ad blocker interference detected!
Wikia is a free-to-use site that makes money from advertising. We have a modified experience for viewers using ad blockers

Wikia is not accessible if you've made further modifications. Remove the custom ad blocker rule(s) and the page will load as expected.