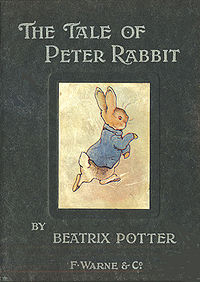 The Tale of Peter Rabbit
 is the first and most famous children's book written and illustrated by Beatrix Potter.
Flopsy, Mopsy, Cottonitail, and Peter Rabbit all live together with their mother in a sand bank under a big fir tree. As Old Mrs. Rabbit is going out, she warns her children not to go into Mr. McGregor's Garden, because their Father had been caught by the farmer and put into a pie. But while Flopsy, Mopsy, and Cotton-tail go out to pick blackberries, Peter goes to Mr. McGregor's Garden anyway. There he gorges on vegetables until Mr. McGregor spies him. Peter tries to escape but gets lost in the garden. He lost his shoes among the vegetables, and his jacket in a net. He does escape from the garden after a while, but the clothes are used to dress a scarecrow. When Peter comes home, he gets sick in bed with a tablespoon of chamomile tea, his well-behaved sisters have a supper of bread, milk, and blackberries.