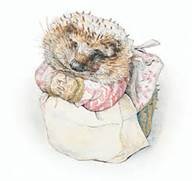 Mrs. Tiggy-Winkle
is a Kind-Hearted and Friendly washerwoman who is a Hedgehog, and the Main Protagonist from
The Tale of Mrs. Tiggy-Winkle
.
IN THE BOOKS BY BEATRIX POTTER
Edit
She makes her debut in The Tale of Mrs. Tiggy-Winkle. She washes and irons Lucie's pokect handkercheifs and pinafore.
FILM AND TELEVISION ADAPTIONS
Edit
In 1971, Sir Frederick Ashton performed the role of Mrs. Tiggy-Winkle in the ballet film, The Tales of Beatrix Potter.
In 1993, an animated adaptation of the tale was telecast on the BBC anthology series, The World of Peter Rabbit and Friends with Prunella Scales and Rebecca Hall voicing Mrs. Tiggy-Winkle and Lucie respectively. The episode also features them meeting Mr. Jeremy Fisher and hearing about his fishing trip. The episode is called "The Tale of Mrs. Tiggy-Winkle and Mr. Jeremy Fisher".
She appears as a character in the Nick Jr. TV Series. She still washes for all the animals, just like in the books.