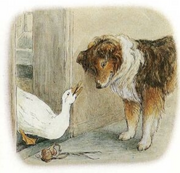 Kep is a loyal, big-hearted, wise, and friendly collie-dog. He lives on the same farmyard as
Jemima Puddle-Duck
.
IN THE BOOKS BY BEATRIX POTTER
Edit
Kep appears in The Tale of Jemima Puddle-Duck. Kep sees Jemima collecting herbs and onions for the Foxy-Whiskered Gentleman, and he asks her what she is doing. He then rescues Jemima with the help of the Two Fox-Hound Puppies and escorts her home.
In The World Of Peter Rabbit and Friends, Kep is voiced by Enn Reital, who gives him a mild lakelander's accent.
Ad blocker interference detected!
Wikia is a free-to-use site that makes money from advertising. We have a modified experience for viewers using ad blockers

Wikia is not accessible if you've made further modifications. Remove the custom ad blocker rule(s) and the page will load as expected.